What are the normal supply and regulated pressures?
We have a blog that has the 7 questions we ask when picking a regulator for an application.  This is the first question listed and over time we will do a deeper dive into the other six questions.
When picking a regulator, it is essential to understand the maximum supply (input) pressures.  Low-pressure regulators usually have a maximum inlet pressure between 150 and 300 psi.  The obvious reason to understand this is for safety and performance issues.   If the inlet pressure rises above the maximum pressure, the internal components will fail first.  Generally, catastrophic failures do not occur unless pressures increase to 3 to 5 times the maximum listed pressure, but this will vary based on the regulator in question.
When choosing an output pressure range, it is important to understand the normal output pressure requirement.   Our general rule of thumb is to pick a spring range that puts the required output pressure at 50 to 80 percent of the range.  For instance, if you require 45 psi output, a 0 to 60 psi range would be ideal.  You could choose a larger range (ie 0 to 120 psi), but increasing the range also affects resolution and droop.  Higher the spring range, the steeper the droop curve when considering regulators that use a spring force balance mechanism.  A good representation of this is the flow curves for our type 330 AFR (air filter regulator), as seen below.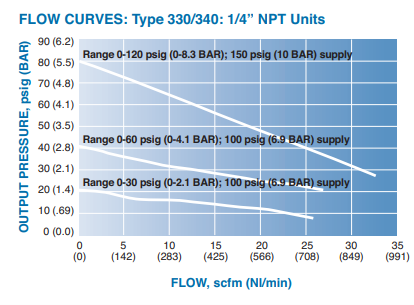 If you plan on adjusting the output pressure to a wide range of output pressures, we recommend staying away from the upper and lower 10 percent of the regulator pressure range.