If you've ever heard the saying, "It's an oldy but a goody", then someone might have been talking about our L100 Bubble Tube Liquid Level Measurement System. I recently heard a plant manager use that phrase to describe our bubbler systems while we were discussing his electronic leveling equipment issues due to condensation forming on the meters. Unfortunately, his case is not unique to his plant and environmental issues such as cold and heat cause several problems when it comes to sensitive electronic equipment. Fortunately, ControlAir has the solution for your harsh environment level measurement needs, our L100 Liquid Level Bubble System.
What are liquid level bubble systems you ask? It's a simple, reliable, and extremely accurate way to measure liquid levels in a vented tank, tube, or wastewater system that has withstood the test of time. While these systems have been around for decades and a multitude of other products have come out in regards to level measurement, few if any have the reliability, ease of use, and long-term cost-effectiveness as our bubbler systems. If you want to learn more specifics on how they work check out our Blog on What is a bubble tube level system? You can also take a look at our L100 product page and spec sheet here.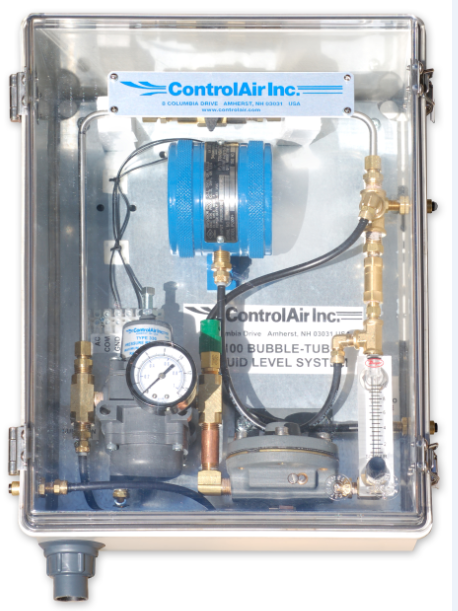 We are seeing increased requests for these systems coming out of power plants, wastewater treatment plants, and municipalities all across the country. The reasons for the requests are pretty simple, they work where high-tech electronics won't and in remote places, people don't want to go to read a meter. Since our system is not electronically sensitive, it is not affected by the hazardous environments you will find in chemical, wastewater, power plants and a variety of other facilities. As the only component of our system in the hazardous area is the dip tube, our systems can withstand a much wider range of temperature variations when compared to most ultrasonic devices. Our system works with gravity so it is not affected by vapor, foam, or solids in the media you are measuring, which is another common problem with radar and ultrasonic devices. With the 4-20mA output signal from our L100, you are capable of monitoring the tank level from hundreds of feet away, or feed it directly into your onsite PLC for use in a current system.
ControlAir will customize your L100 to your exact location needs, calibrate your transducer to your specific gravity, and do it all while being price competitive with other level measurement systems in the industry. Not to mention these units are assembled, calibrated, and tested in our Amherst New Hampshire facility in the United States.
Of course, we always welcome customer's calls, emails and chats through our website if you have more questions. We look forward to hearing from you and wish you safe and accurate level measurement success!